Google first announced the mobile-first index in November 2016 as most searches were now accessible to Google via mobile devices; however, the ranking system was based on the older version, i.e., desktop version. The solution was to shift to a newer version, the mobile-first indexing.
3 out of 5 searches happen on mobile
What Exactly Is "Mobile-First Indexing"?
The mobile-first indexing is similar to what it sounds like. Your website's mobile version becomes the starting point for indexing and the baseline for determining your website's ranking. The "Mobile-first" doesn't refer to the mobile-only index. Say if a site lacks a mobile-friendly version, it can still include the desktop index. However, the lack of a mobile-friendly experience impacts the ranking negatively.
Meanwhile, the term" mobile-first" refers to the fact that the Google algorithm will consider the mobile version as the initial version of your website. So, if you have optimized your content for mobile or use responsive design, the change will not impact your site's search performance result.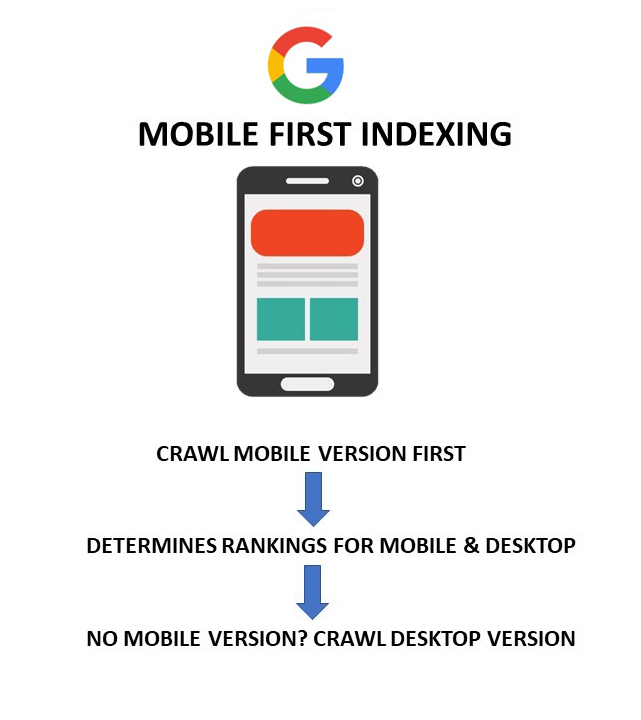 What Should You Do for Mobile-First Indexing?
The first thing that the Website Design Company in Kolkata, India, recommends is not to panic. This change is being rolled out, and websites that Google considers "ready" enough for the change will have minimal impact. Google also claims that if your website is responsive or is identical in its desktop and mobile versions, you need not do anything.
However, even with a 100% responsive site, the loading speed and time are prioritized. Also, make sure that images and other elements are optimized correctly for a smooth user experience. Note that, in mobile-first indexing, content that is hidden or collapsed due to space limitation won't be treated differently than visible content.
Make Sure You Check All the Following Areas
Content: Your website needs to have all the high-quality content that existed previously on the desktop site. This should include text, videos, and images. Also, make sure that the formats used are crawlable and can be indexed.
Structured Data: Include the same structured data markup on both the site's mobile and desktop versions. Also, dodge adding random structured data if it's not appropriate to the specific content.
Metadata: Metadata and title should be equivalent on both versions of all pages
XML Sitemap: All the sitemap links are accessible from the mobile version of the site. This equally applies to robot directives and trust signals such as the links to your privacy policy page.
Search Console Verification: If you have verified the desktop site in Google Search Console, don't forget to add and verify the mobile version.
Server Capacity: Check that your host servers can handle enhanced crawl rate
In the third quarter of 2020, mobile devices generated 50.81 percent of global website traffic
What If You Lack Mobile Site?
Many of the websites out there lack mobile-friendly sites. So, will it affect the site? Yes, it will, to a certain extent. When you don't have a mobile site, Google will just use the desktop version to rank the website. Google has a bias against websites that aren't mobile-friendly.
The lack of responsiveness hits your site. Google now prioritizes mobile-friendly content, and this official indexing is just moving a step further. Also, your site is already being judged on a different dimension. Experts from Web Development Company suggest not worth sticking to just a desktop version. Even with a good ranking, sooner or later, you'll perhaps lose to some site that may not be as good as yours.
The majority of people spend more time on mobile than on desktop.
Final Thought
Developing a mobile-first experience is significant. Ignoring mobile optimization will be not less than a blunder. Google now only prioritizes mobile-friendly sites and if you lack one, quickly go for it as soon as possible.
Don't allow the lack of mobile-first experience to stop your website's potentialities. The quicker you act, the better is the chance to rank higher in the SERPs and increase business conversions. Good Luck!
If you need any help with your SEO, Facebook Ads Campaign, Google Ads Campaigns, I will be happy to connect and share a plan. Contact pixyzen.com for more information.