Although the internet offers all the information, people still use the old way! Yes, the contact list. Think about it carefully, what would you do if you want to book a slot for a hotel reservation? Would you like to speak personally or leave everything to the chatbot? Especially when most of the businesses are offering massive discounts! Of course, the previous one.
More than 60% of Americans use smartphones to search for local services and products.
Indian mobile users are spending around 4.3 hours a day on smartphones than before. The timing has increased by almost 24%. (App Annie)
According to a TechARC is a survey, almost 502.2 million people were using smartphones by the end of 2019, and by 2020, May, the number has gone up to 504 million active internet users. (Nielsen and IAMAI study)
Now you must have realized the consequence of pertinent information. To make things more productive, the largest search engine giant Google has come up with Google MyBusiness! At our Website Design Company Garia, Kolkata, India, we find this step from Google as one of the best ways to explore business possibilities in the current scenario.
However, before we move ahead with Google MyBusiness, let us first understand what exactly it does.
A GMB helpful video available on the Youtube channel  "Grow with Google" with the title "How do I get my business listed on Google Search and Maps? | Quick Help "
Google MyBusiness
Whether your enterprise is based online or offline, your prospects will definitely go for an online search, and you know that Google is the ultimate search referrer. Your account in Google MyBusiness allows your customers to find your business details. In fact, your clients will also get the location and discover how to visit your store.
According to Net Marketshare, 80% of all searches happen on Google, which means there are 35 billion searches per day.
If you own a website, MyBusiness allows you to improve your SEO, and when someone searches for you, your page will pop-up right at the moment. Apart from that, the MyBusiness opt you to state your business status, i.e., open, closed, business timings, reviews, and ratings.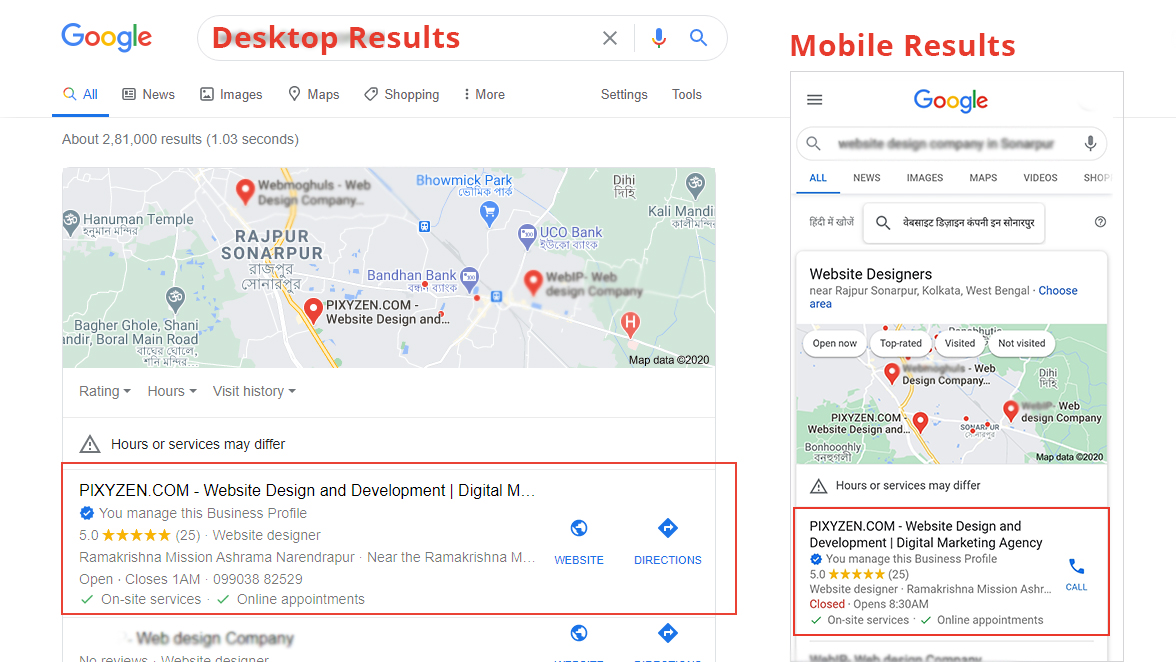 What Your Business Needs to Make Sure
Never let your customers be guessing about your business. It is very much essential to provide exact details about your business. You can also post updates if you have expanded services or even when you have temporarily closed it.
56% of local retailers haven't yet claimed their free Google MyBusiness account.
Meanwhile, misinformation can bring disaster. The sole aim of the MyBusiness is to let your customers get appropriate information. Also, here's what you need to make sure about your business.
Significance of Absolute Information
Google GMB listings have various parts. The core part is business information. This includes
Name
Address
Phone Number
Website
Description
Attributes
Category
All the above information will be indexed by Google Search, and Google Maps for SEO's absolute foundation.
A GMB helpful video available on the Youtube channel  "Google Help" with the title "How to edit your Business Profile (H) "
We recommend providing consistent information to the listing.
Google My Business Tweet
Have a question? A few resources that may help:
🕐Change your business hours → https://t.co/2I1z13ZvOC
ℹ️Update your listing → https://t.co/dV4kO4yEhZ
✏️ Share a post with customers → https://t.co/OHcxYOnZEY
🔐Mark your business as Temporarily Closed → https://t.co/idNdvKCZJC

— Google My Business (@GoogleMyBiz) April 2, 2020
Asking Reviews and Responding Them
Do you know reviews are the lifeblood for any local search? Good reviews bring great sales, and more good reviews mean higher sales. On the other side, if your business listing includes terrible reviews, it is also a golden opportunity for you.
Over 90% of customers focus on negative reviews as a second opinion.
In 2016, a study found that more than 53% of consumers search for local businesses at least one time per month, which is a 10% increase over 2015.
Now, it depends on how exactly do you want the reviews to state your business portfolio. On the other side, the frequency of reviews is substantially increasing day by day! Also, Google actively encourages these moves.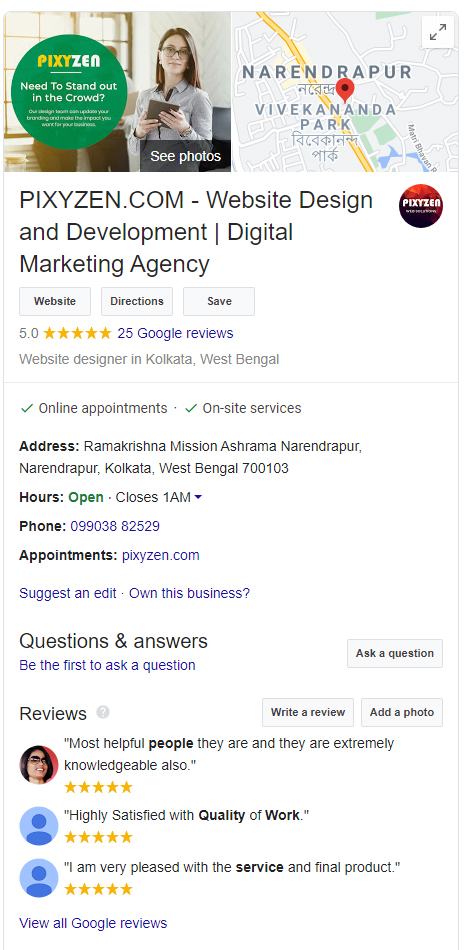 Speak to Customer Through Google MyBusiness Messages
More than 90% of customers text message rather than going for a business call. Your phone number is absolutely essential but Pixyzen, recommends replying to messages as the foremost part of the priority list.
Also, 44% of the people said they would be more likely to visit a store if the owners responded to negative reviews.
It not only leads to increased customer engagement but also gets the "deal." And that why Google introduced the messaging feature! You can also activate this feature and start interacting by answering questions and fielding comments, thereby bringing exclusive business loyalty.
Why Add Post on Google MyBusiness?
Google allowed the option to post features back in 2017. You can share as much content about your business as you can through a variety of ways. Some of the best ways website design company Kolkata India suggest include
Highlighting products for brand establishment
Showcasing upcoming events for exclusive promotion
Sharing updates on company advancement
Utilizing GIFs, emojis, and more for appealing to customers
When Developing A Post, Consider the Following Things
Google allows a maximum of 300 words per post if you use the CTA button
The entire post will show on mobile if the CTA button is not applied
Select high-quality image representation for your business
Also, businesses with photos on their listings receive 42% more requests and 35% more click-throughs to their websites than businesses without photos.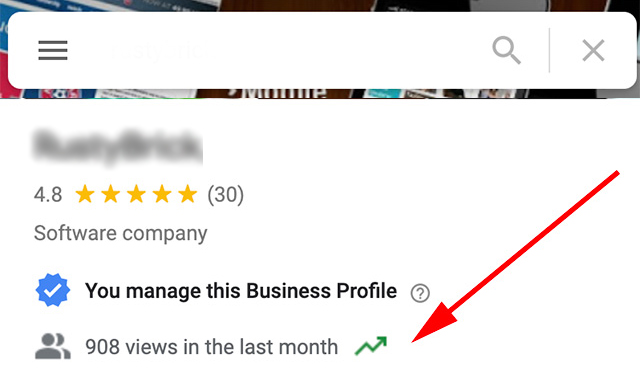 Final Wrap
Google's MyBusiness is an incredibly powerful gateway for your website, and if done in the right way, you can experience exponential business growth. Removing Unwanted GMB Events and Duplicate Listings, Because it's all done by AI on Google's side, it's very hard to fight this, unfortunately. It is an opportunity for business interaction, and make sure you take control of it!
If you need any help with your SEO, Facebook Ads Campaign, Google Ads Campaigns, I will be happy to connect and share a plan. Visit https://pixyzen.com for more information.